Mobile Websites

zBlueSoftware will work with you to develop your mobile web presence. You may have an existing website that needs to be modified to fit the mobile world, or you may need something entirely new. Whatever the case, we will make it easy and worry-free to get your mobile website up and running.

Fast Loading...
Speed is key. Your mobile site needs to show up quickly to keep your customers. We will ensure that your site not only looks beautiful, but also loads quickly.

Database Driven...
Your mobile site may need a database to drive some of its pages. We will ensure you have the best database, with the best design and security possible, not only to provide the optimal user experience, but to ensure the protection of your data.

E-Commerce...
E-Commerce is becoming more and more common on phones and tablets. Today's users want to be able to visit your site from their mobile devices and quickly tap an icon to complete their purchase. We'll handle setting up everything necessary for your mobile site to provide this functionality.


Mobile Apps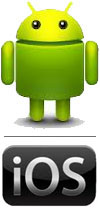 An Android (phone or tablet) or iOS (iPhone or iPad) mobile app can be thought of as a small part of your company that the user gets to keep on their mobile device. It could let them search through some of your data or products; it could provide them with reminders; it could be a fun game. The possibilities are endless.

Complementary...
A good mobile app can complement your web presence. It can include additional features that build upon your website. This can provide the user with functionality that takes advantage of the technology in their mobile device to go beyond what the mobile site can deliver.

Details...
The details are what makes a mobile app stand out. Does it have the final layer of polish that excites or positively surprises your users? We will work to ensure it does; suggesting ideas to complement and augment your own. The aim is to create an app that the user thinks of first when needing to perform a task.